My name is Olga Soby, I'm a contemporary artist based in Canada with my roots going back to Ukraine. I specialize in fluid media and consider myself an unconventional artist – instead of regular brushes, I use water, fire, airflow, and gravity as my tools for achieving the most unique effects in my art.
Fluid art techniques allow me to fully embrace the power of Movement, Colors, and their impact on our feelings and emotions. And with every piece, I'm not only the creator but also a tool through which most beautiful forms come to life.
The biggest inspiration for my art is Nature with its endless forms of beauty and harmony in every process, every phenomenon, every creature, and every element of the micro and macro world. And with my art, I attempt to explore and manifest this beauty, leaving room for viewers to find a reflection of what moves and inspires them the most.
As I draw my inspiration from Nature, one of my biggest priorities is to ensure that my creative process is environmentally friendly. Therefore you'll find me constantly working on optimizing my workflow as well as teaching others how to implement environmentally friendly practices in fluid art.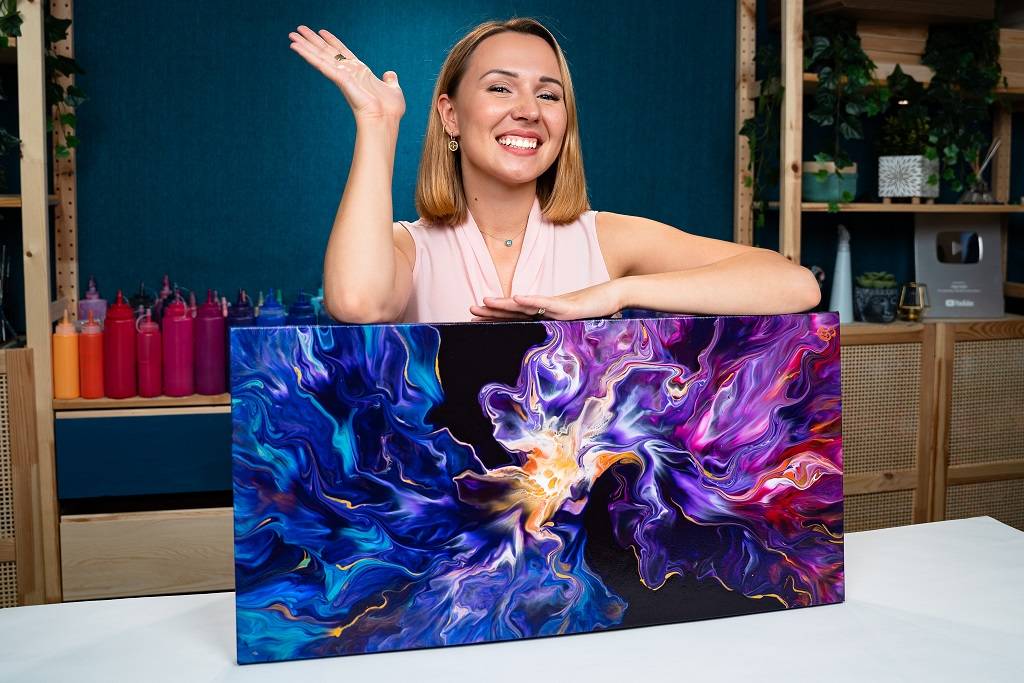 My art journey began in my early 20s. And this has been the most liberating, beautiful, and life-changing experience.
Today, my works finding homes in private collections around the world. I joyfully share my painting process with over half a million audience and am incredibly grateful for the opportunity to teach, inspire, and encourage aspiring artists from all over the globe.
I believe that there are creative sparks in every single one of us. And it's important to find and nurture these little sparks turning them into bright flames of achievement and self-expression.
I'm excited to help you dive deep into your imagination and express your creative gifts with fluid art.
Interested in my paintings? Check out my shop to see collections and works available for purchase: