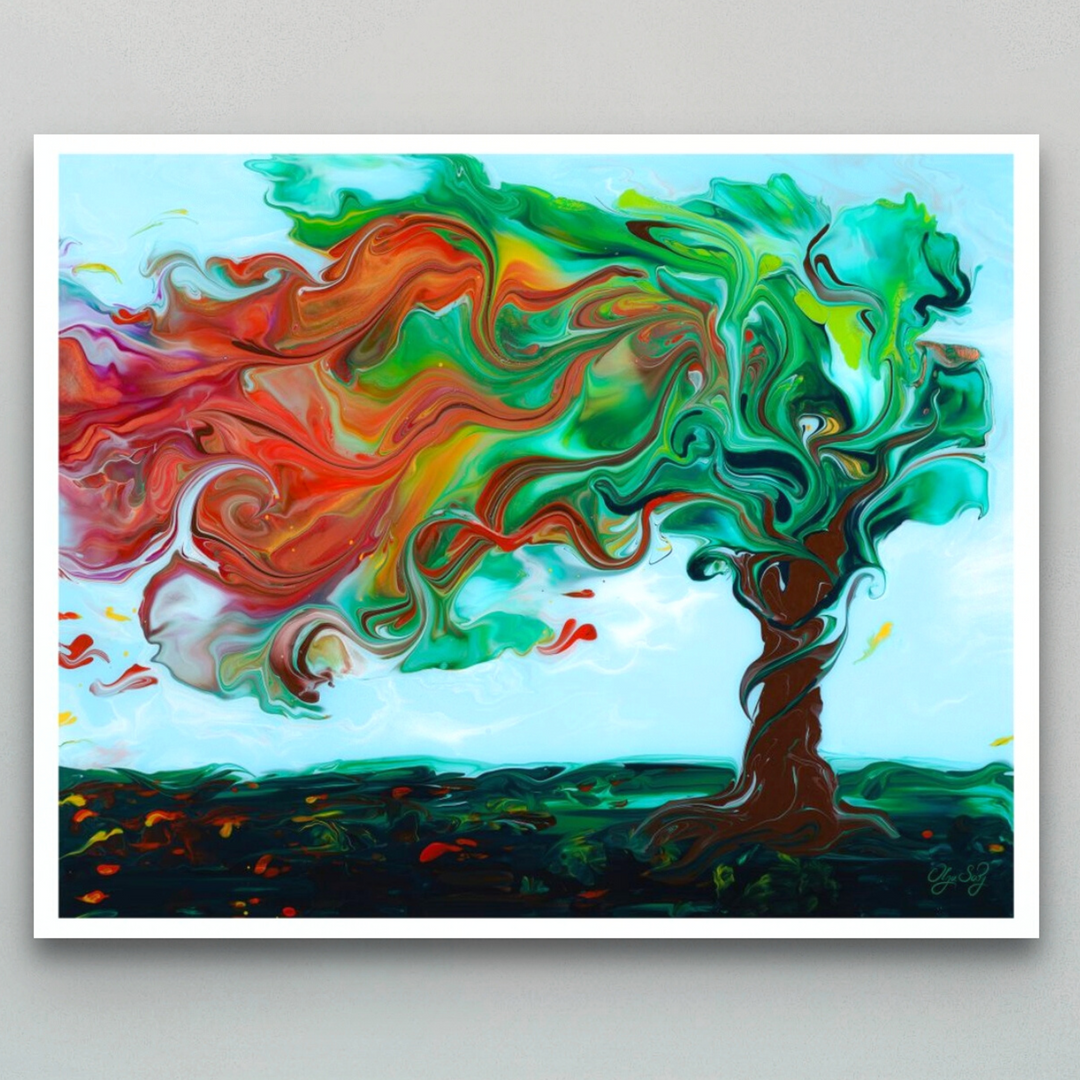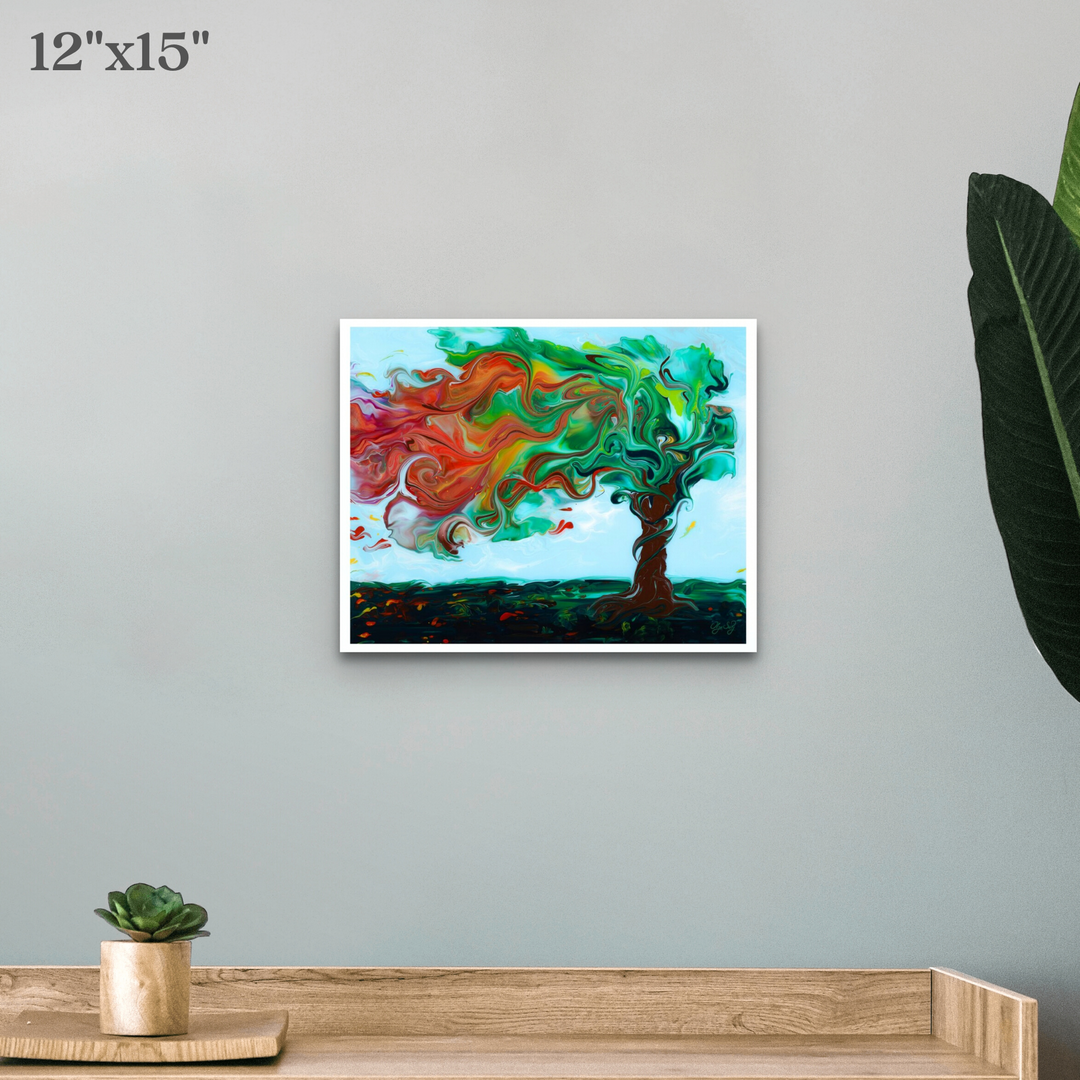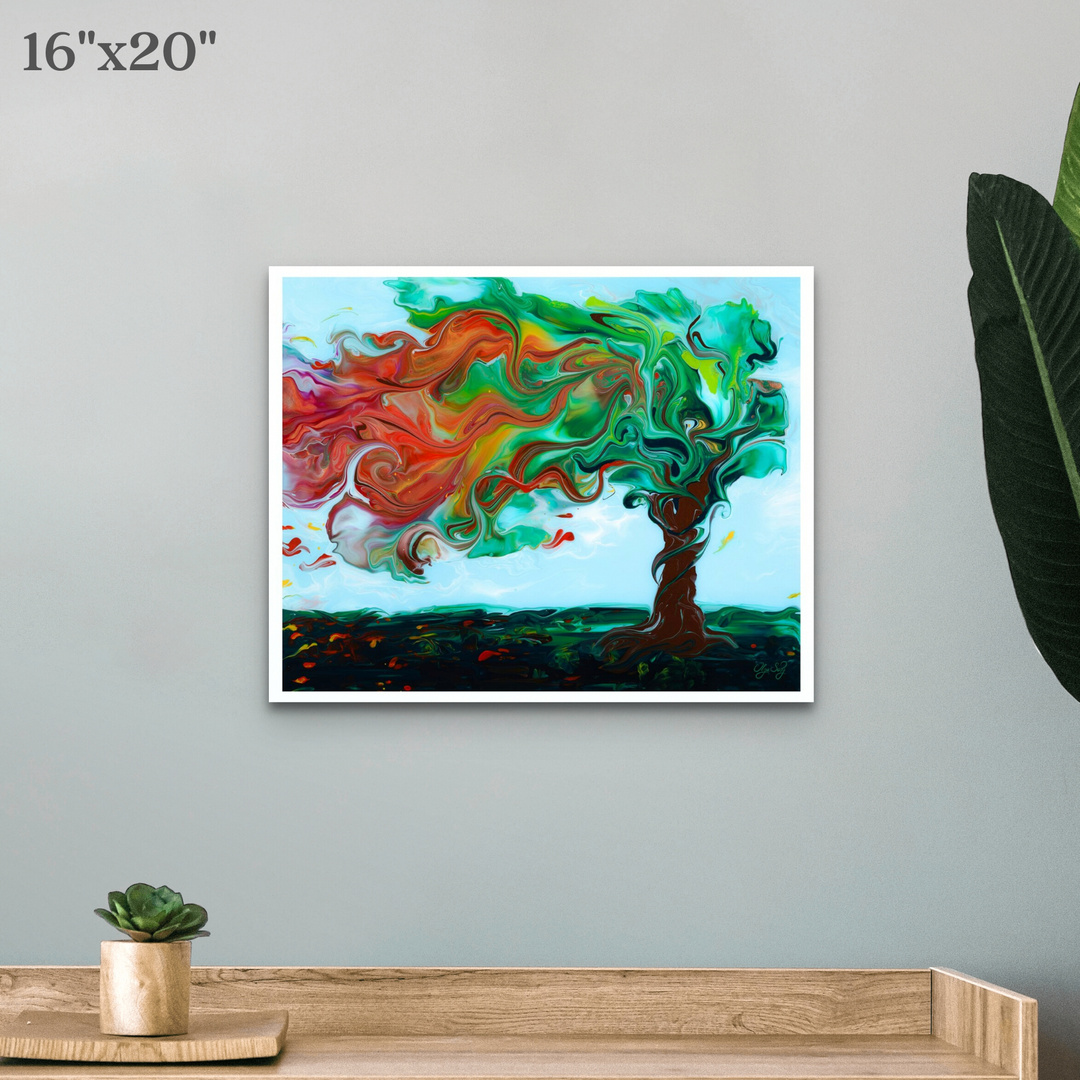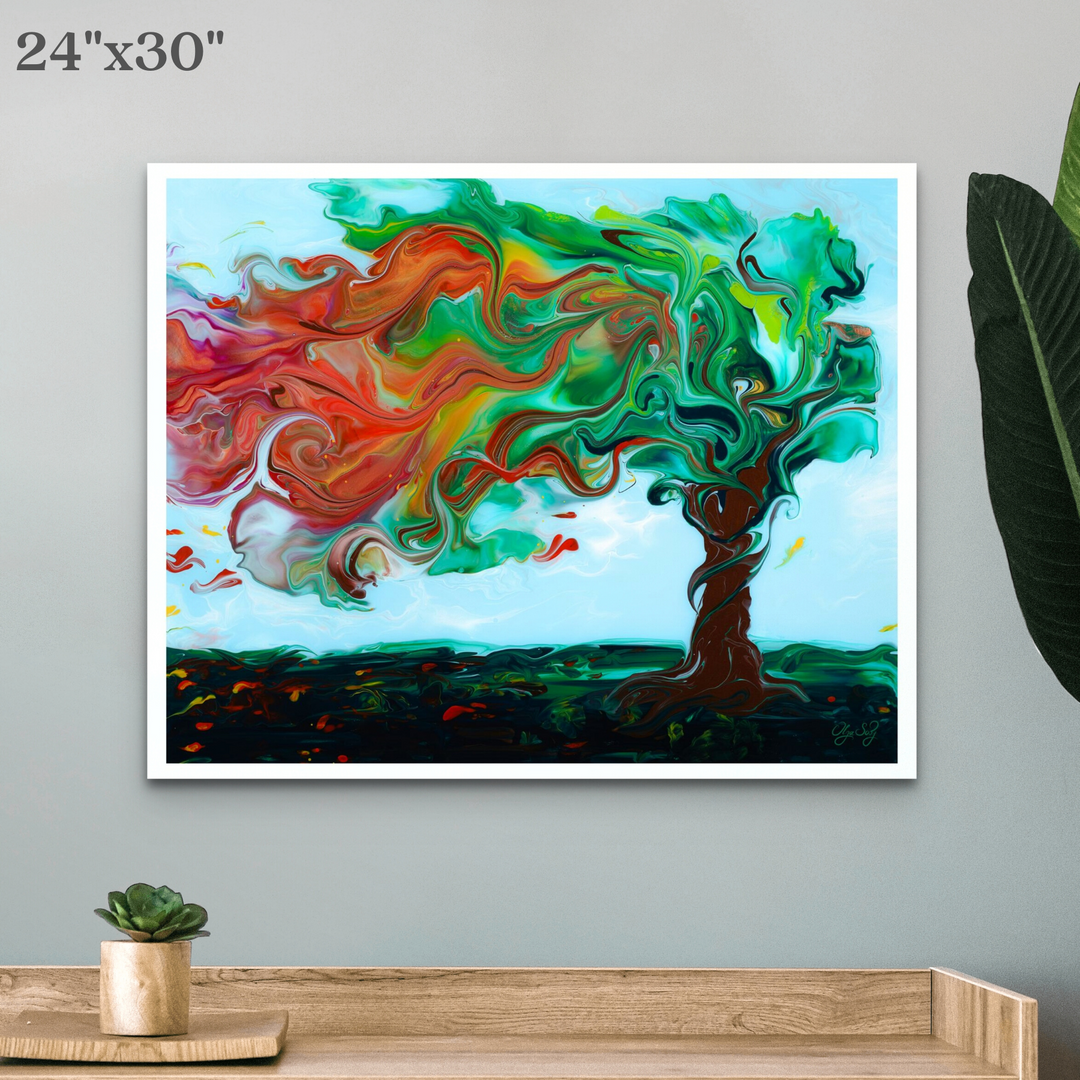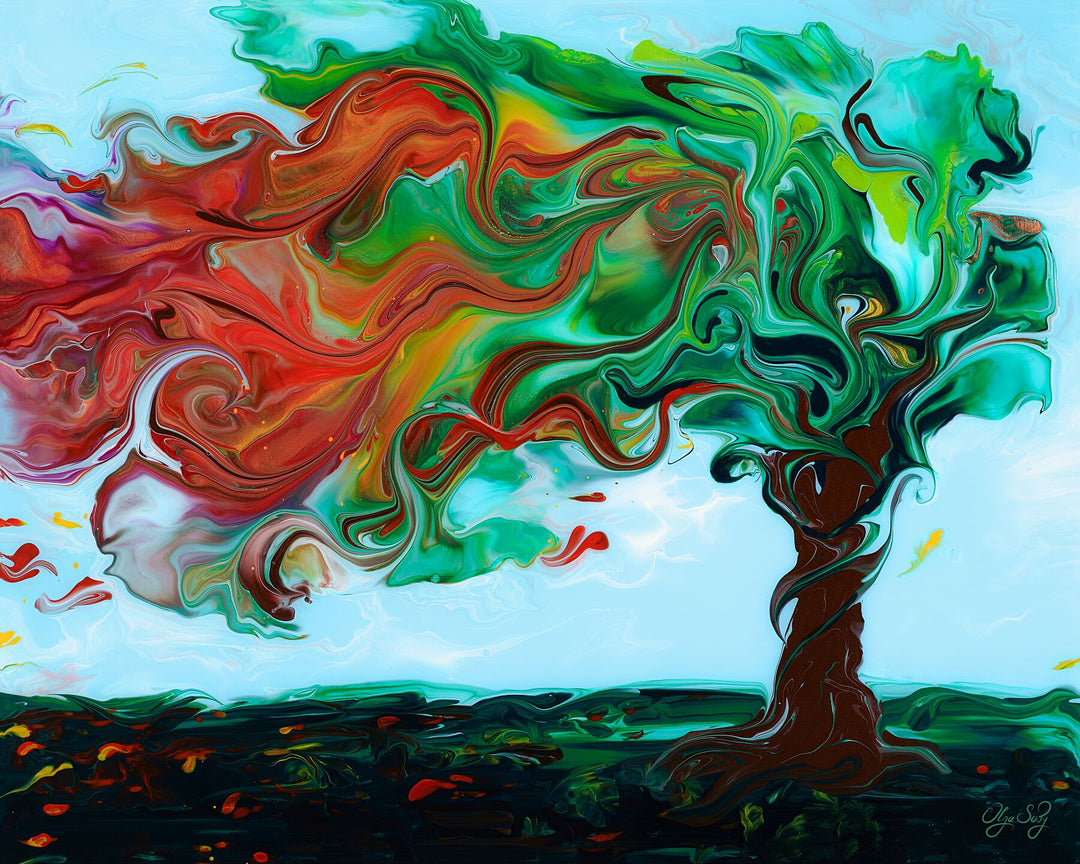 Autumn Dream - Print
---
Inspired by the beauty of the most colorful season of the year, this painting captures the fleeting yet irresistible magic of a Tree at its peak beauty!

Full of vibrant autumn colors, dynamic composition, and an inviting Dreamy mood. One of my favorite Creations! Part of the Dancing Flow series. Secret message - "Tranformation"
The original painting size is 16"x20". You can watch a video with the artwork creation here.
Printed on Giclée fine art paper
Limited quantity editions
Supplied with Certificate of Authenticity
FREE worldwide shipping till Nov 28
Printed on professional-grade acid-free archival fine art paper to maintain natural color, preserving the beauty of the prints.
Designed to last, with an archival life of 100+ years.
Semi-gloss finish.
All prints come with 1/2 inch white boarder on all four sides.
Frame not included.
I work with a fully end-to-end carbon neutral printing partner, so all prints and framed artworks (and their delivery) are certified carbon neutral.

All papers and wood-based materials are sourced from Forestry Stewardship Council certified sustainable sources. Packaging materials have been carefully selected to reduce the impact on the environment whilst still ensuring your artwork gets to you in perfect condition. Plastics are kept to a minimum and all packaging materials are sustainably sourced, being a mixture of recycled, recyclable or biodegradable materials.
Bubble wrap we use is 100% recyclable. It is also biodegradable in landfill (or through the combined effects of sunlight, stress and oxygen) thanks to a non-toxic, heavy-metal-free additive blended into the resin during production to ensure that it breaks down quickly and can be digested harmlessly by microorganisms and converted into the basic elements of carbon dioxide, water and biomass.
All stated sizes include a 1/2 inch white border on all four sides. Please note that frames are not included. Please use the stated sizes when purchasing a frame.
Each painting is available in three sizes in limited number editions:
*Small - Edition of 75
*Medium - Edition of 50
*Large - Edition of 25
Supplied with a signed, stamped & numbered Certificate of Authenticity for provenance
Worldwide DELIVERY with tracked & insured shipping.
Ships rolled in a secure tube with acid-free tissue paper. Please allow 3 to 5 business days for dispatch.
Because these pieces are all made to order, all sales are final. I absolutely guarantee your satisfaction and that your order will arrive in perfect condition and will match the specifications on my website. Your artwork will be sustainably packaged and well protected, but on the rare occasion there are issues, I will always provide an immidiate replacement at no extra cost to you. More information here.