HOT REDS Compilation
Abstract Art ❤️🔥
Acrylic Pouring Tutorial by Olga Soby​
Ideas with Gold, White and Black ~ Acrylic Pouring ~ Flow Art
HOT REDS Compilation Abstract Art is a new video acrylic pouring tutorial. Red is such a powerful and passionate color, and I think when it's used with gold, black, and white, it just reveals its full expressive potential on the canvas! Combo that's hard to resist – one of my most favorite acrylic pouring color palettes! 😍🔥Therefore, meet NEW and so HOT Acrylic Pouring Compilation of eight different techniques and designs with a red color palette.
1. Red Burst with Stencil Embellishment. Mixed Media Acrylic Pour Painting with stencil art embellishment. I am absolutely crazy about gradient pour paintings, and I want to implement the gradient effect to a stencil Acrylic pour painting😉 So, meet The Flames!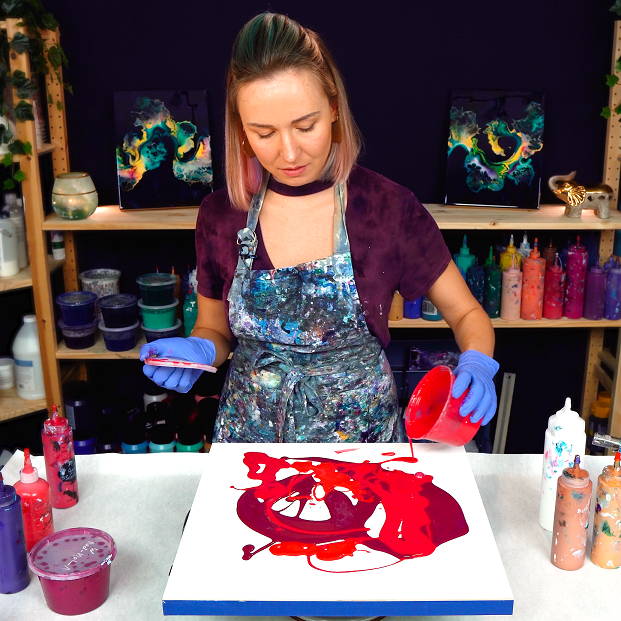 Acrylic Pouring
RECIPE

used for today's flow art painting:​
#1 Center Blow Out + Mandala Embellishment;
#3 Dirty Pour with Swipes
#4 Red Gradient Pour
#6 Phoenix blowout on multi-color base
#7 Red Ring Tango Flow diptych (Breaking Through the Limits series)
Acrylic Pouring Recipe used for #1, #2, #4, #6, #7: 3 parts acrylic paint to approximately 2-3 parts water (60%+40% or 50%+50%), this proportion varies depending on paint brand and color density. Mixed to very thin consistency.
#2 Traveling Funnel Pour Painting
#5 Traveling Open Cup Pouring
Acrylic Pouring Recipe used for #2 & #5: 1 part acrylic paint +2.5 parts Floetrol. After mixing, I added about 0.5-1 parts water to get to the medium-thin consistency.
I added drops of silicone oil to the colors that go in the funnel in pour #2.
No silicone in pour #5.
Acrylic Pouring Recipe used for #8 Paint Kiss Feather Painting:
Colors mixed as 1 part of acrylic paint + 2.5 parts of Floetrol + 0.5 part of distilled water + 0.5 Tri-Art Liquid Glass. Medium o Medium-thick consystency.
NOTE #1 Water and Floetrol measurements are approximate and slightly vary depending on the initial paint viscosity.
NOTE #2 For exact color names and links, check out the description under full videos.
NOTE #3 For Stencil, I used gel medium and paint see the full video for details.
For the exact, paint names, and other supplies & details, check out the description under each full video of this HOT REDS Compilation
Abstract Art :
Looking for more awesome acrylic pouring supplies?
Check out my Amazon Storefront USA / CA / UK / DE you'll find even more brands and supplies I use, love, and recommend, so definitely check it out. And in this supplies guide for beginners, you'll find more details and help from me.
Resin Finish Online Course
Do you want to learn how to finish painting with epoxy resin for a beautiful, smooth, liquid glass-like finish? Introducing NEW Exclusive Epoxy Finish Mastery Course!
2. Traveling Funnel on Black and White. I tried Split color Funnel Pour with the Black and White negative space. WOW! I can't believe how much expression this acrylic pouring technique creates. And of course, I love cells – can't go without them! 😆 Acrylic pour with the funnel is a fun and easy fluid painting technique for beginners.
3. Lava Dirty Pour. Try this Hot combination of Acrylic Pouring Techniques to create Liquid Flames of LAVA 🌋 What a fun mix: dirty pour + blow out + swipes! This is a pretty wild mix, but the outcome… oh, it's SPECTACULAR!😍 And this thin paint straight pour created with paint and water only!
4. Ardor Gradient Pour. In this Gradient Pour Tutorial, I explore the Criss-Cross pouring technique. And for this Gradient Painting, I'm going to have a color split base, gradient all the way from burgundy color with the violet undertone all the way to orange, and very minimal negative space. So I want to have a flow painting full of Ardor!
5. Traveling Open Cup. Phenomenal! Such a dramatic result with the open cup acrylic pouring created on a black and white split color base and GOLD and RED fluid acrylics. I love all these effortless cells without silicone this technique creates. And the open cup technique is so much fun.
6. Phoenix Flow. In this acrylic pour painting I created a Golden Flow on a deep multi-red base 😍 I absolutely love how flow art can guide you into unexpected outcomes that can reflect the essence of things. 💗WoW!
7. Tango Flow Diptych (with ring). Black, white & red – I use the MOST contrasting color combination in this Acrylic Pouring tutorial. A part of my Breaking Through the Limits series with the Yin Yang composition, spectacular colors, oriental motives, and modern style. I really love how this fluid painting turned out! A very contrasting outcome with gorgeous cells and lacing, beautiful colors… but also very airy and soft. All this makes the whole contrast even more bold and striking!
8. Paint Kiss Feather Painting. In this tutorial, I'm working with Metallic Paint and Black Negative Space + Adding Tri Art Liquid Glass to my pouring mixture.
I really hope you enjoyed this compilation and now you are all charged with energy and ideas to go and create something amazing.
More Acrylic Pouring Tutorials
Want to master acrylic pouring technique and express your creativity with fluid art? You are in the right place tp learn! Discover more creative art tutorials with similar style and techniques:
Hello, creator! My name is Olga Soby, and if you are new to acrylic pouring and fluid painting - you are most welcome on my website and my YouTube channel!
I'm a contemporary artist based in Canada with my roots going back to Ukraine. I specialize in fluid media and consider myself an unconventional artist - instead of regular brushes, I use water, fire, airflow, and gravity as my tools for achieving the most unique effects in my art. Read more...
Through my artwork, I employ Colors and Shapes as the most beautiful universal language. And with the interweaving of their symbolism and primal meanings, I create each painting to tell its own unique story. You can find all of my original paintings available for purchase here.
A collection of limited edition prints of some of my most popular recent work presented on the highest quality fine art papers.
Available in three sizes. You can find a full collection of my fine art prints here.
Best tools and recommendations to be successful in acrylic pouring